Location
2106 Braewick Circle Suite D / 302
Akron, Ohio 44313
330.836.4788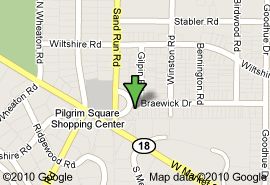 Directions
From West Market Street, turn onto Sand Run Road. Braewick circle is an immediate right turn (if you turned left here, you would enter Starbuck's parking lot). Our parking lot is an immediate right (right behind the Marathon filling station that is on the corner of Sand Run Road and West Market Street).
Ariel Massotherapy is in the second building and located on the second floor.
Appointments
Questions can be answered by email or by phone.

Email: Bill@arielmassotherapy.com.
Appointments are best made by phone:

330.836.4788
Rates
Rates are based on $65 per hour.
The state requires that sales taxes (6.5%) be charged for any sessions that are not prescribed by your doctor, chiropractor or dentist (for TMJ).
Payment is required immediately before or after the session. Payments can be made by cash, check or credit card. Visa, Mastercard and Discover are accepted.
Appointment policy
Office appointments begin and end at the appointed times. Please arrive in time to be ready to begin the session at the appointed time. For your first session, please arrive 20 minutes before your appointed time.
Sessions are for the appointed length of time. For example, a thirty minute session is thirty minutes. Should you arrive early, when possible, feel free to get ready and relax until the session is set to begin. Should you arrive late, your session will end at the appointed time.
Cancellation policy
Please call at least 24 hours in advance, when changing or canceling appointments.
In the case of last minute cancellations or no-shows, you will be billed in full for the appointment, unless I am able to fill it. Emergencies are subject to practitioner discretion. The only exception is sudden illness. For example, if you are in the beginning stages of cold, flu, or other acute illness, it is best to reschedule your appointment.